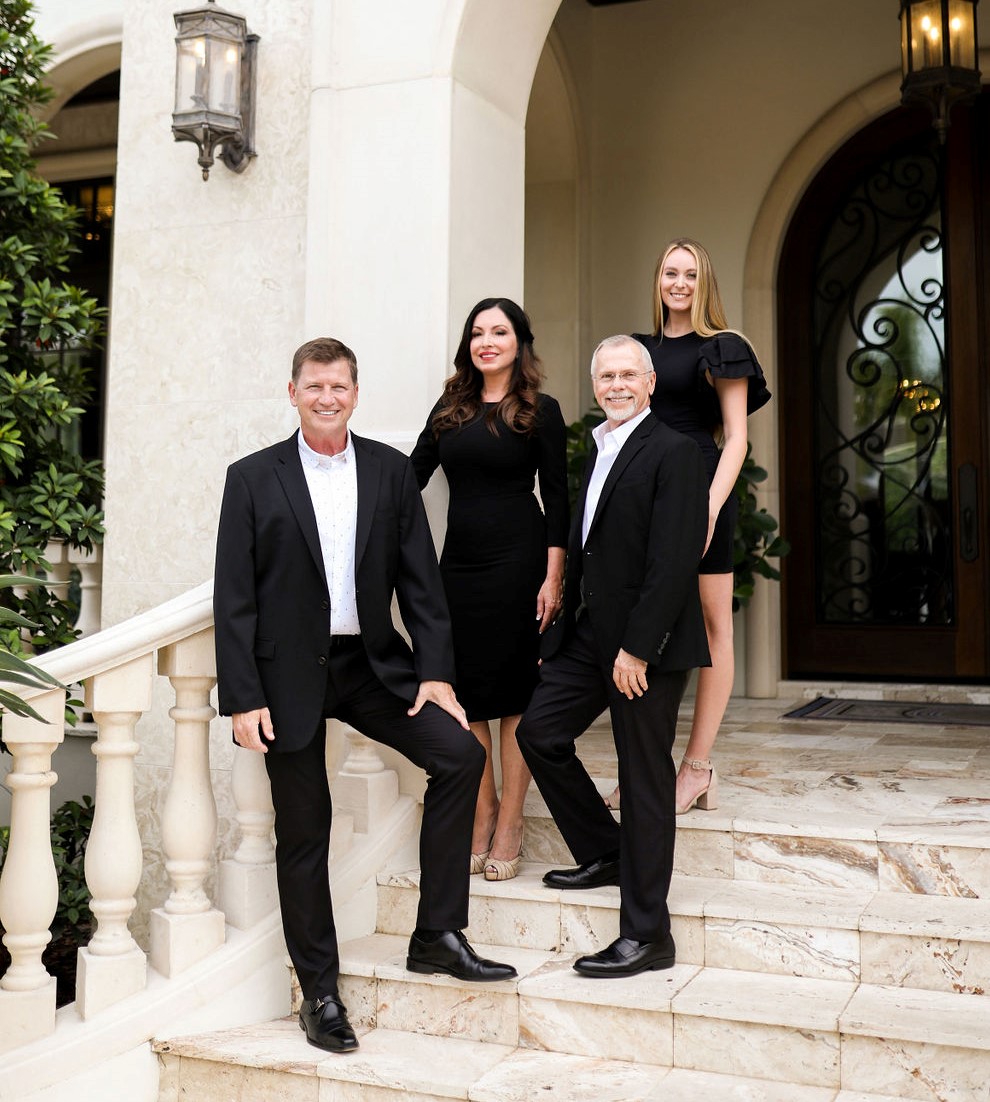 "To give real service, you must add something which cannot be bought or measured with money, and that is sincerity and integrity."
Mike Hughes and Jeff Shelton understand that buying or selling real estate is much more than a financial transaction. It requires the help of knowledgeable professionals who will go out of their way to assure your satisfaction. With the highest standard of excellence in service and meticulous attention to detail, Hughes & Shelton have earned a reputation as Tampa's top selling real estate team.
Whether selling or buying Mike and Jeff are here to help clients "open new doors". Over twenty years of unprecedented service has been instrumental in the growth of Hughes Shelton Realtors with Coldwell Banker in the Tampa Bay marketplace. As the business has grown Mike and Jeff have expanded in order to maintain their high standard of excellence, working with Compass Real Estate. Today the group includes additional team members, Christine Mastrilli and Danielle Tringali.
Mike and Jeff are proud to be a part of Compass's International Network, committed to professionalism and customer service that remains the core of our business philosophy today. Our experience has helped make the dream of homeownership a reality for millions of families. We sell more Bay Area residential real estate than any other company.
Testimonials
Jeff went above and beyond to make sure things were handled for us. He was exceptional and we could not have asked for more from him. LS
Christine was phenomenal! From our first meeting and the dozens of homes she prepared for us to see to the closing of our selected home this week. Having bought 9 or 10 homes in our lives I can truly say Christine delivered our best experience ever. One of the most organized and well managed real estate experiences we have ever had. RR
Jeff Shelton was the most professional realtor that I have worked with and guided me to a purchase that I was thrilled with. I was previously working with another realtor for approximately 1.5 years in search for my home. I was not having luck and had to do much of the due diligence myself. Jeff and Mike had worked with my family in the past and to be honest I didn't believe they would take me on as a client due to the size and scale the typically operate with. I was wrong. Jeff not only provided me guidance, but made the experience such a positive. I have been trying to funnel my network to Jeff and Mike due to the overall satisfaction. LB
I tasked Christine Mastrilli with finding a suitable community/location/school district, for our family to move to from New York. She found several great locations for us. We visited each one in one day and ended up committing to Bexley in Land O' Lakes on that one day. Needless to say we are thrilled and absolutely love where we landed. Kudos to an amazing experience. Christine excels at her role as a "Homebuyer Confidant" – as I would like to put it. We have already recommended her to my mother-in-law who is considering purchasing property in Florida. She was with us every step of the way and more. To this day she still reaches out to us. Always a pleasure. ME
I love working with Mike Hughes. He is the best agent I have ever worked with, and I intend to use him on any future real estate selling or purchase I make. He always goes above and beyond to answer all questions and make everything happen as smoothly and as timely as possible. CB
We have bought and sold close to $4 million in property with Jeff and Mike since 2006. We listed our home with another company and agent based on a strong recommendation of a close friend. What a mess – late for open houses, didn't return calls, wanted TV on during open house so he could watch car races…11 months of babysitting. From the moment we came back to Jeff and Mike it was like we didn't have to do a thing… every aspect was taken care of on this property. We will never, I repeat, never go anywhere else! JH
Christine Mastrilli was my sales associate on the sale of my condo located in Tampa, Florida. She sold my condo in 12 days at a substantial profit, which thrilled me. She was cool, calm and very attentive throughout the entire sales process. She kept me informed without having to hunt her down to see how everything was going and I appreciated that as well. I would definitely recommend Christine to friends, family and anyone interested in seeking a great company and great sales associate. I cannot stress enough that Christine is definitely an asset to Coldwell Banker. She puts her heart and soul into her work and always puts the client first.GG
Jeff was a pleasure to work with. This is our third home we have purchased but we are new to the Tampa market. Jeff took time to understand the needs of our family and schedule showings that met those needs. Jeff went above and beyond to provide his knowledge on service that would be needed following the close of the house. He has made our transition to the Tampa area very easy. TM
From the moment I met Jeff Shelton I felt at ease. He really listened to what I said, understood my concerns and helped me through the entire process. He knew exactly what the value of the home was, suggested an appropriate listing price and it sold very quickly. He represented my interests in the negotiation of the purchase oh my new home, provided excellent referrals to inspection companies, movers, and other services. He was always available to answer my questions and he made what could have been a very stressful process stress free! While I hope I will be in my new home for many year, I will definitely call him again if I ever decide to move. MM
Being 88 and a widow it was wonderful to have Mike as my sales representative. He was very helpful and knowledgeable. ED
Jeff, we really appreciate your guidance and support on the sale of our home. You exceed expectations and we could not be more pleased. Hope to refer lots of new clients to you! SP
The service on my real estate purchase and sale was more than exceptional. The Hughes Shelton Team exceeded every expectation as they have done in the past. That is why I continue to be a client. TW
We were very impressed with the level of service and professionalism exhibited by Mike, Jeff, and Andrea. The service provided was very hands on and geared toward our particular needs. VS
Mike and Jeff went above and beyond in every aspect of service! BG
Christine Mastrilli was awesome! She really took the time to get to know what we were looking for instead of just pushing us through as many homes in our price range as she could find. Christine made us feel special, and that, for us, made all the difference. Great agent. JS
My real estate agents were wonderful, responsive, helpful, and really on top of the market and what was happening specifically with the flood insurance changes to rates, etc. MM
Mike Hughes and Jeff Shelton are the top firm in the Tampa market because of their market knowledge, client service levels, and overall coordination of the entire sales process. GE
Hughes Shelton was excellent in all aspects of their service and follow up. Honest and constructive feedback throughout the sales preparation and transactional processes was great – very helpful. Mike, Jeff, and team know how to get every 'drop' of value out of the properties they help sell. Great experience. RR
Professional, responsive, and always there to meet my needs and answer questions. Absolutely Outstanding. MF
WE ARE THRILLED—-THANK YOU SO MUCH!!!!!!!! —I must tell you that of all the real estate transactions that (we) have been involved with this has been the most pleasant. Your guidance and help were truly a gift to us at a very hectic time. I don't know how we could have managed otherwise. I hope we have the opportunity to see you again soon and thank you personally. Have a wonderful holiday season and love and very best wishes for the coming year. ML
We would like to express our sincere gratitude and appreciation for all the effort you and Jeff and your team put into our house sale. We are well aware that some of your thoughtful moves and communications with all the various players were the difference between success and failure. Attached is a small token of thanks for you to enjoy however you deem appropriate. Please feel free to use both Patty and I as references to the solid "concierge" service that Hughes-Shelton provides. Thank you very much! MP
Here we are 6+ months post the sale of our home 4400 West Culbreath Avenue in Tampa and we are finally able to take a step back and truly appreciate your hard work and dedication. After buying with you in Tampa 5+ years ago, we knew we would come back to you for the sale of our home and what a great decision! Best thing we could ever have done to ensure the sale of our home at the best price possible. What a time to sell your house! Not only did the market become a challenge as the sign went up, but we had a few personal complications to add to the mix such as a move across the state with our 4 year old daughter and newborn son! Nothing you've not handled before, but for us it was a whirlwind. The only thing keeping me sane most days was the knowledge that you guys had the Tampa house covered. Your professionalism is unparalleled. Your follow-through is immediate. You call back a minute after the message was left. Your knowledge of the market is comprehensive and fact-based. You know how to get the best people in Tampa to put your house into "selling" shape. In the most basic sense you know how to sell a house and now-a-days that is an art. You two are the quintessential real estate investment experts. Thank you for your expertise. We are sorry to have left the area because if we could we would buy and sell again with your team every time. MS
We have bought and sold three properties with Mike and Jeff over the past ten years, and in the process, developed a friendship with these two incredibly honest, ethical, generous and fun-to-work-with people. Whether we've been the buyers or the sellers, Mike and Jeff have bent over backwards to make sure we've been very well-informed, and that we've made decisions that were best for US, regardless of the impact on them. The absence of any pressure whatsoever and the absolute commitment to their clients is what really sets them apart! TW
What a journey it has been! Many trips from New Hampshire to Florida, scores of calls, emails and voicemails! Had it not been for your focus and effort, we certainly would not have been able to accomplish our mission. In the end, we found an amazing home and completed one of the most important pieces of this transition to Tampa. None of this success would have been possible without your professional expertise. I cannot thank you enough. In all sales situations, true accomplishment comes from referrals from satisfied clients. Mark my word, our experience with you has set the stage for many other individuals that will land up coming to Tampa. They will only purchase Real Estate through you! Thank you again for "World Class Service", our experience was phenomenal.  MG
Latest Posts:
This error message is only visible to WordPress admins
Error: No posts found.
Hughes Shelton Realtors | Compass Real Estate
1600 E 8th Avenue, Tampa, Florida 33605
O: 813-355-0744 | M: 813.690.1688 | Sales@HughesShelton.com